Long term benefits of using FELIWAY
Read about the further benefits of FELIWAY CLASSIC's "happy messages" and beyond how it can help if your cat is showing signs of unhappiness such as spraying, scratching or hiding.
But FELIWAY CLASSIC will do more for your cat's happiness! Read on to find out how...
As an illustration, moving home is a common situation that will benefit from FELIWAY CLASSIC.
For a human, moving house is one of life's most stressful events - so imagine what it must be like for a confused cat!
Much of a cats feeling of security and ability to relax comes from being surrounded by the familiar smells and sights of their own territory.
This is why lots of owners turn to FELIWAY CLASSIC when moving home with their feline/s. Our easy-to-use plug in diffuser releases "happy messages." "These "happy messages" help your cat to feel comfortable and safe in their new environment.
Week 1:
Plug in your FELIWAY CLASSIC Diffuser as soon as you move in - the "happy messages" will be released and you will begin to see a change in your cat's demeanour over the next week.
Whilst the rest of the human family are rushing around manically during moving week, your cat will seem much more relaxed, busy exploring instead of worrying. If only there was a human version of FELIWAY CLASSIC!
"This is what my cats looked like within the first hour of moving into our new house. They couldn't be more relaxed and that is all down to Feliway!"
- Ted and Ruby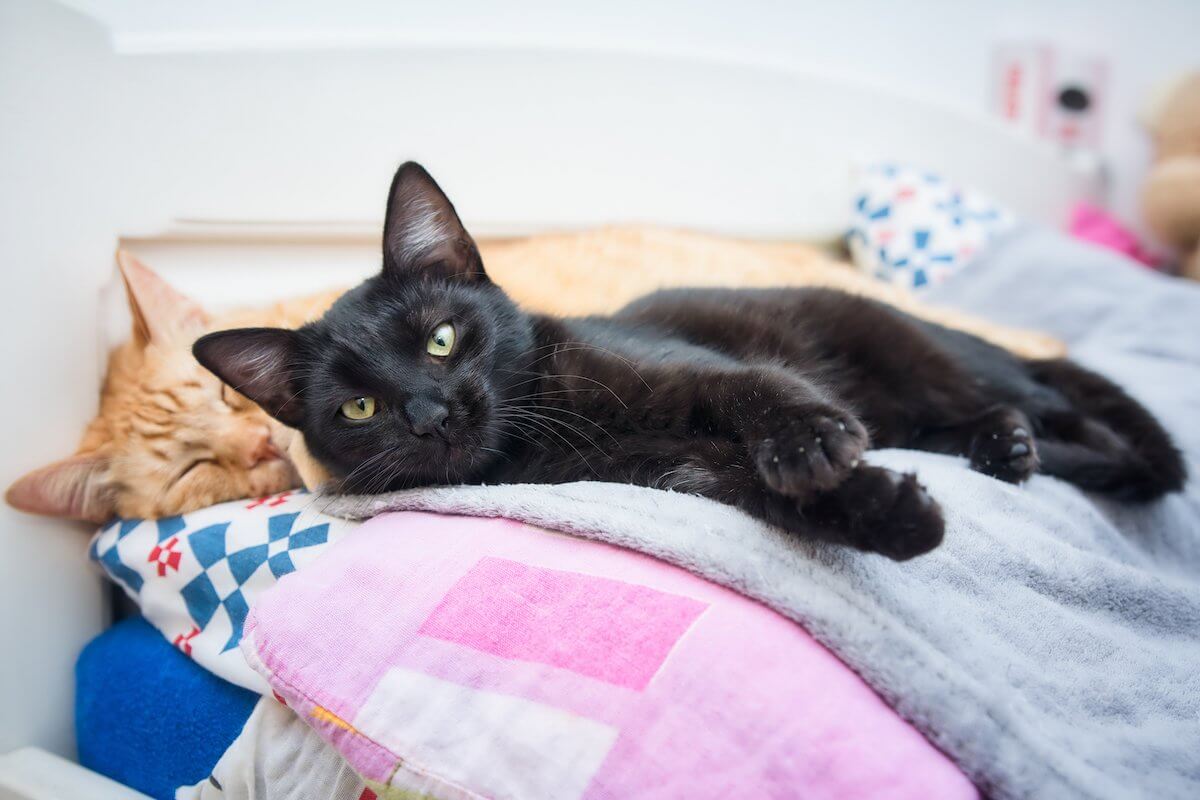 If your cat seems chilled, this means FELIWAY CLASSIC is working! They're starting to pick up on the "happy messages" being sent out.
Users also comment on how nicely The FELIWAY CLASSIC diffuser will fits into their home. "It's cute, it's not too big — just the right size for the space." - Mara and Luna
Month 1:
After a month, you'll be impressed by how relaxed and comfortable your cat is in their new home.
They should be confidently exploring the entire house - not just lounging around in their cosy haven.

MONTH 2:
By the second month, your kitty will be a zen master! Not only will they be completely settled in their new home but they might also have some new habits..
You may notice that they are more playful, more willing to curl up on your lap - just like they did when they were a kitten. You will start to see your happy relationship returning!
MONTH 3:
You won't believe the results by month 3! Your furbaby will be more confident, more affectionate and more attached, day after day.
Why?
Simple! The "happy messages" sent by FELIWAY CLASSIC are constantly in the air. So your kitty no longer spends their days worrying about what terrible experience might be lurking around the corner: noises, visitors, vacuum cleaner, renovation, public works in the street - you name it; none of this can affect your cat's happiness anymore!
Instead, they will be enjoying life, and you can be happy together.
You'll spend more time together playing and cuddling. You will feel like you've got your best friend back.
"Thank you FELIWAY", is what you will say!
But don't just take our word for it. Watch Cassius Disco's testimonial video to see how FELIWAY CLASSIC helped him settle into his new home.
If you have used FELIWAY please let us know: